The perfect training ground for early-stage startup founders
Wise Guys Pre-accelerator has been designed specifically for early-stage startup founders. Our 8-week program will ensure that you have all the key components of your business and idea in order so that you can successfully apply for full-time accelerator programs or first-round investment. Make sure you have:
at least two people team
a draft version of MVP
market research.
You will receive professional feedback on your MVP and business plan that'll help you boost your sales and/or product launch. You will work with our pitch coaches to polish your deck and delivery, and after this, you will be ready to apply for an equity-based acceleration program.
teams invited to Selection Bootcamp's
teams went through full time accelerator programs and received investment from SWG
Pre-Accelerator program outline
The Startup Wise Guys Pre-accelerator program is meant for early-stage startup founders, who have a great idea, and the drive and ambition to take their startup full time. For the founders who are ready to sweat and fight for global success.
And remember, you get out of the program what you put in. Startup Wise Guys will give you the information and tools to help you start accelerating your idea into a viable startup. But it is up to you to do the work, apply the lessons and build your business, listen to feedback, and pivot if necessary.
This is your opportunity to go big or home! Can you make your team into a real startup, ready to be accelerated and invested in?
Marta Madara Dundure
Pre-accelerator Manager
Cristobal Alonso
El Patron, Global CEO at Startup Wise Guys
Culture and Values (PERFORM), Pitch training and Fundraising
Karina Lapina
Head of Scouting at Startup Wise Guys
Problem definition, Product differentiation, and Pitching
Farid Singh
Wise Guys Cyber Program Director
Product-market fit, Experimentation, and Building purposeful companies
Patrick Collins
CEO of Prospect Labs
Lead generation software and automation, Sales Software, and Onboarding / Customer Service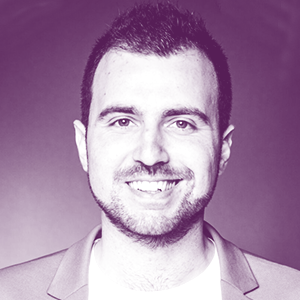 Stoyan Yankov
Productivity coach
Productivity and performance, Team and culture, Mindset and personal development (PERFORM)
Zane Bojare
Head of Marketing at Startup Wise Guys
General Marketing advice, Pitching and public speaking, Company culture and values
Anni Saar
Legal Officer at Startup Wise Guys
Investment agreements, IP, and GDPR
Andrea Orlando
Managing Partner at Startup Wise Guys – Italy
Fundraising and investment
Uldis Zeidurs
Geek in Residence at Startup Wise Guys
IT, Business analysis and Team management
Alexandra Balkova
Head of Portfolio at Startup Wise Guys
KPI's and Goal setting
Dag Ainsoo
CFO and General Partner at Startup Wise Guys
Fundraising, Building strategy and financials