We could say that in many ways 2020 has become a tipping point for several verticals, encompassing the many sub-verticals in the Sustainability and MedTech spheres. What was once considered for many investors a nice-to-have aspect for investment, or a vertical that has too long of a horizon to wait, has now for many investors become apparent as a day-to-day issue that needs resources and talent today to find solutions for future. The health crisis brought on by Covid-19 exposed many of the EU's health systems' lack of real-time data of availability, queue management, triage, or remote medicine. The need for end-to-end processes where human physical contact was not an option exposed many medical professions that were running on century-old techniques. While startups at times lack scale, they proved ready to get involved in these new processes, as became evident in the many Hack the Crisis hackathons.
The second major trend coming out of this crisis in 2020 is the emergence of online education solutions. While EdTech for years was almost a cursed vertical where access to public schools and the lack of digital transformation in the sector needed a revolution that never came, Covid-19 created a burning need within weeks, where suddenly all classes needed to be conducted online. The emergence of a dozen of EdTech startups in the region is clearly a sign of the need, but also of a change in mindset within schools and the overall education sector at different levels of government.
---
Below you will find a list of 10 Baltic sustainability startups to watch from the Baltic Startup Scene Report 2020 brought to you by us, Startup Wise Guys, and EIT Digital. This list is curated by the most reputable local investors and experts and calibrated with data from Crunchbase.
We at Startup Wise Guys have been successfully investing in and accelerating startups since 2012 and running a dedicated Sustainability program since 2020. If you are on the lookout for investment and more brain power, check our open applications.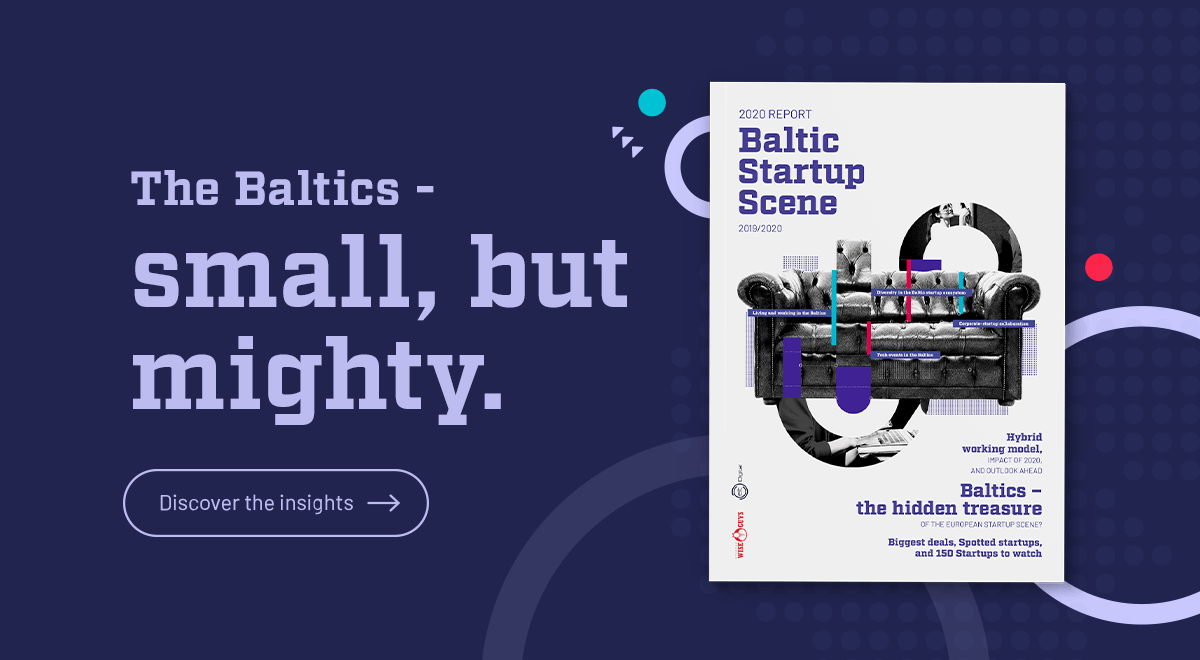 In the news
Lithuanian startup Oxipit – one of "Usual suspects" from our MedTech and Sustainability startups to watch list – announced partnership with Swiss medical distribution company Healthcare Konnect to bring ChestEye AI imaging suite to healthcare institutions in Nigeria. The partnership aims to introduce vanguard AI diagnostic capabilities and improve detection of 75 pathologies, including tuberculosis, to one of the largest markets in Africa. Latvian EdTech startup Edurio launched a special Covid-19 impact review for the UK market showing how the schools have coped with the crisis. Another "usual suspect" – Estonia based Viveo Health – announced expansion to India in December 2020. The expansion falls in line with an increased demand due to the COVID-19 pandemic for remote consulting platforms specially designed for medical professionals with an urge to provide a safe environment to care givers and consumers. While these are news from the top performers in the industry, below you can take a look at the up-and-coming startups in broad Sustainability sector.
Baltic startup support ecosystem definitely took Sustainability serious in 2020 and 2021 too. The first step was launching a positive avalanche of Hack the crisis online hackathons, emerging in Estonia and culminating in the Global Hack. In November – we aka Startup Wise Guys – launched our very first full-time program Wise Guys Sustainability and invested in 10 startups tackling various problems – from education to online therapy, from disposable toiletries for hospitality industry to waste management in electronics and printing industries. There were several additional sustainability focused programs launched in the Baltics like Future Hub by Swedbank Latvia and partners, as well as impact program by Rockit in Vilnius.
---
10 sustainability startups to watch*
Beesage (Latvia) – Monitoring system that provides real-time data to beekeepers
SpirulinaNord ( Latvia) – Innovative, closed photobioreactor for spirulina cultivation indoors
Solfeg.io (Latvia) – An interactive app for learning and teaching music
Ferterex (Latvia) – Home treatment device which helps infertile couples
Vigo (Latvia) – Personalized digital therapy for stroke patients
Herovet (Latvia) – Contact certified Latvian veterinarians via video/chat
Pagerr (Estonia) – Zero waste solution that turns unused potential of printing houses into additional business utilising unused paper
Taut (Estonia) – Solution for teachers to better interact with students' homework
Ringy (Estonia) – A marketplace of refurbished electronics
Cogastro (Lithuania) – Management system for edible insect farms
* Full startup to watch list is available in the Baltic Startup Scene Report, as well as in the digital database.
Methodology
This Startups to watch list is an excerpt of "150 startups to watch list" from the Baltic Startup Scene Report. It is meant to give an insight into the most exciting startups in the Baltic ecosystem. In this list we have given the spotlight to 1 "On the radar" startup and 9 "Hidden treasures" – early-stage startups that have raised less than 100K eur (at the time of creating the list), launched in their home markets, are showing great potential, but might not have any significant traction just yet. Some startups listed in this category have traction but lack visibility. This category was curated by market insiders with insight into the hot potential of these startups.
Startups to watch list is calibrated with Crunchbase data on funding and curated together with our awesome contributors such as startup associations and business angel networks in all 3 countries, VC funds Imprimatur Capital, Change Ventures, accelerators BuildIt, Commercialization reactor, experts in particular verticals like Davids Stebelis and of course – the whole Startup Wise Guys team.
---
About Baltic Startup Scene Report
For investors, startup founders and Baltic ecosystem builders, the Baltic Startup Scene Report is the go-to-place for an aggregated, qualitative and comprehensive data-backed outlook of the Baltic startup scene and investment opportunities in the Baltics.
It is a collection of various data sources and angles of the startup ecosystems within the Baltic states. The report dives deeper into essential topics such as Baltic startup investments and startups to watch, most prominent investment deals, startup visa regulations, digitalization in the region, corporate innovation, and much more.
☝️ Limited amount of printed copies of the Report available on demand. Please fill this form if you'd like to get a copy.