Transportation & Mobility is a sector that has exploded in 2020. We've seen the rise of peer-to-peer mobility, vehicle sharing (including everything from bikes and scooters to cars), and the scooter takeover of most cities across the globe. These trends in mobility were already present pre-lockdown. In fact, one of the region's leaders in alternative mobility, Bolt, is an influential unicorn in the region. However the effects of Covid-19 accelerated their effect as public transit and car-sharing no longer was a safe alternative, and even more so stimulating the growth of logistics-based startups as people increasingly lean on home deliveries.
Lockdowns accelerated the already steadily growing e-commerce market, which drives demand for deliveries – both long-distance and last-mile. Meanwhile, the transportation sector is one of the largest contributors to CO2. This coupling has led to a trend in sustainable transit and logistics, one that can be seen by observing the rise of electric transit, urban hubs, cargo bikes, and more. In the Baltics, we see Estonia dominating the hardware transit market with startups such as Comodule, Bikeep, Ampler Bikes, and Vok bikes, while Lithuania leads with new platform services, such as ZITICITY, GoRamp, Citybee, Spark, and Freidesk.
---
Below you will find a list of 9 Baltic mobility, transportation and logistics startups to watch from the Baltic Startup Scene Report 2020 brought to you by us, Startup Wise Guys, and EIT Digital. This list is curated by the most reputable local investors and experts and calibrated with data from Crunchbase.
We at Startup Wise Guys have been successfully investing in and accelerating startups since 2012. If you are on the lookout for investment and more brain power, check our open applications.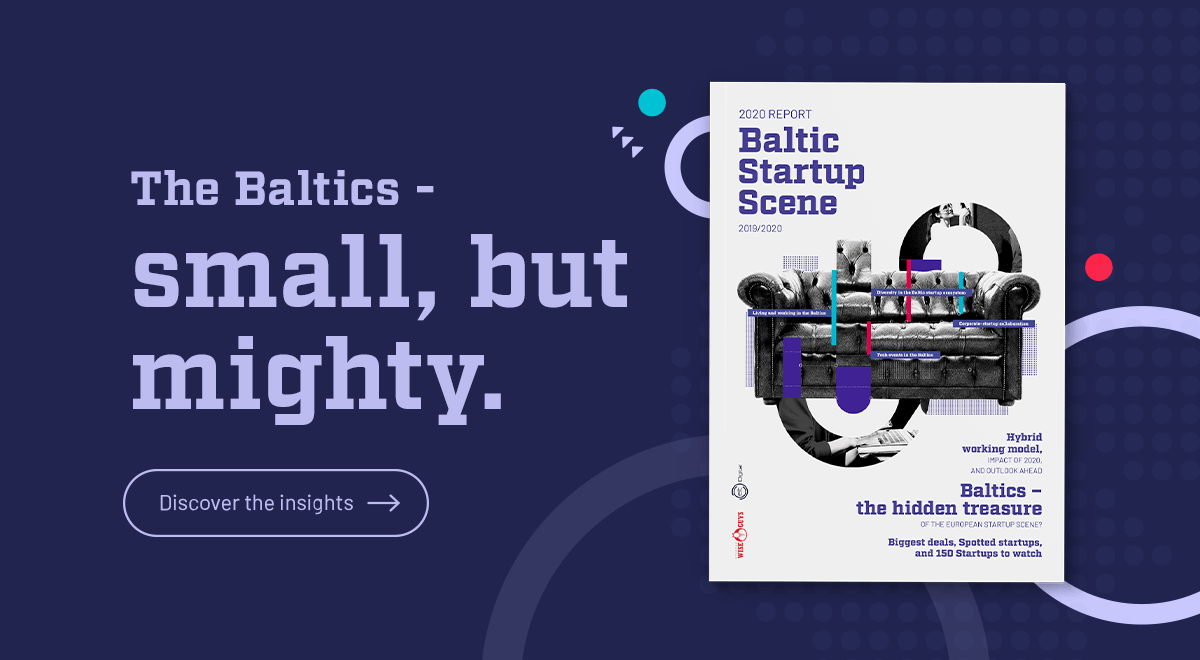 In the news
Baltic mobility superstar Bolt (Estonia) not only executed the biggest e-scooter roll-out in Germany in May, but also recently launched car-sharing service Bolt Drive. Lithuanian "same day delivery" startup Ziticity (Startup Wise Guys portfolio) continued its growth in France, and also expanded to Latvia in March 2021. Estonian Vok Bikes that are producing "pedelecs" – vehicles for couriers and postal workers – raised 800K eur early in 2021 and plan to produce 100 more vehicles.
In Latvia – urban mobility focused hackathon took place in April 2021 by Vefresh organisation and partners. It will be followed by a 10-week summer mobility incubator program, which will support up to 8 teams working on their technical prototypes and testing their solutions in the VEF district where special testing points will be set up in cooperation with the Riga municipality. Keep an eye on them for more up-and-coming startups to watch, but below – our list from Baltic Report.
---
9 mobility startups to watch*
Ako Trike (Lithuania) – Developing unique three-wheeled electric vehicle – trike
Traxlo (Lithuania) – Data powered retail workforce forecasting, planning, and rewarding decisions
Speiz (Lithuania) – Warehouse solution that enables suppliers to generate more revenue
Artusystem (Latvia) – Universal alternative fuel retrofit for diesel common-rail engines
Zeltini (Latvia) – Tiny electric camper that incorporates the functions of a home, a boat, and a trike
Forknav (Latvia) – Automation solution for problematic forklift operations
Precision Navigation Systems (Estonia) – Software and hardware solutions for precise GPS positioning and navigation
Nutriparkla (Estonia) – Car parking analytics and business intelligence platform
Auve Tech (Estonia) – Development and deployment of driverless vehicles and autonomous systems
* Full startup to watch list is available in the Baltic Startup Scene Report, as well as in the digital database.
Methodology
This Startups to watch list is an excerpt of "150 startups to watch list" from the Baltic Startup Scene Report. It is meant to give an insight into the most exciting startups in the Baltic ecosystem. In this list we have given the spotlight to the "Hidden treasures" – early-stage startups that have raised less than 100K eur (at the time of creating the list), launched in their home markets, are showing great potential, but might not have any significant traction just yet. Some startups listed in this category have traction but lack visibility. This category was curated by market insiders with insight into the hot potential of these startups.
Startups to watch list is calibrated with Crunchbase data on funding and curated together with our awesome contributors such as startup associations and business angel networks in all 3 countries, VC funds Imprimatur Capital, Change Ventures, accelerators BuildIt, Commercialization reactor, experts in particular verticals like Davids Stebelis and of course – the whole Startup Wise Guys team.
---
About Baltic Startup Scene Report
For investors, startup founders and Baltic ecosystem builders, the Baltic Startup Scene Report is the go-to-place for an aggregated, qualitative and comprehensive data-backed outlook of the Baltic startup scene and investment opportunities in the Baltics.
It is a collection of various data sources and angles of the startup ecosystems within the Baltic states. The report dives deeper into essential topics such as Baltic startup investments and startups to watch, most prominent investment deals, startup visa regulations, digitalization in the region, corporate innovation, and much more.
☝️ Limited amount of printed copies of the Report available on demand. Please fill this form if you'd like to get a copy.