In 2020, B2B SaaS continued to grow beautifully, as expected. There are increasingly more large companies in this category, and B2B SaaS has definitely become mainstream – almost all companies now use some kind of SaaS solution, and the vertical's revenue share is growing. Some of the largest SaaS companies like Shopify, Salesforce, etc., now have market capitalization in the hundreds of billions, and as we have seen, haven't been particularly hard-hit by Covid-19.
If we look at overall trends, then mobile-first and customer-centric mindsets are even more prevalent, as employees are performing increasingly more tasks on mobile. Customer experience has become the key and no one wants to work with clunky, old enterprise SaaS products. We're also seeing the same trends in business models, with more usage-based pricing models emerging, which are certainly more customer-friendly.
---
Below you will find a list of 6 Baltic SaaS startups to watch from the recently published Baltic Startup Scene Report 2020 brought to you by us, Startup Wise Guys, and EIT Digital. This list is curated by most reputable local investors and experts and calibrated with data from Crunchbase.
We at Startup Wise Guys have been successfully investing in and accelerating B2B SaaS startups since 2012. If you are on the lookout for investment and more brain power, check our open applications.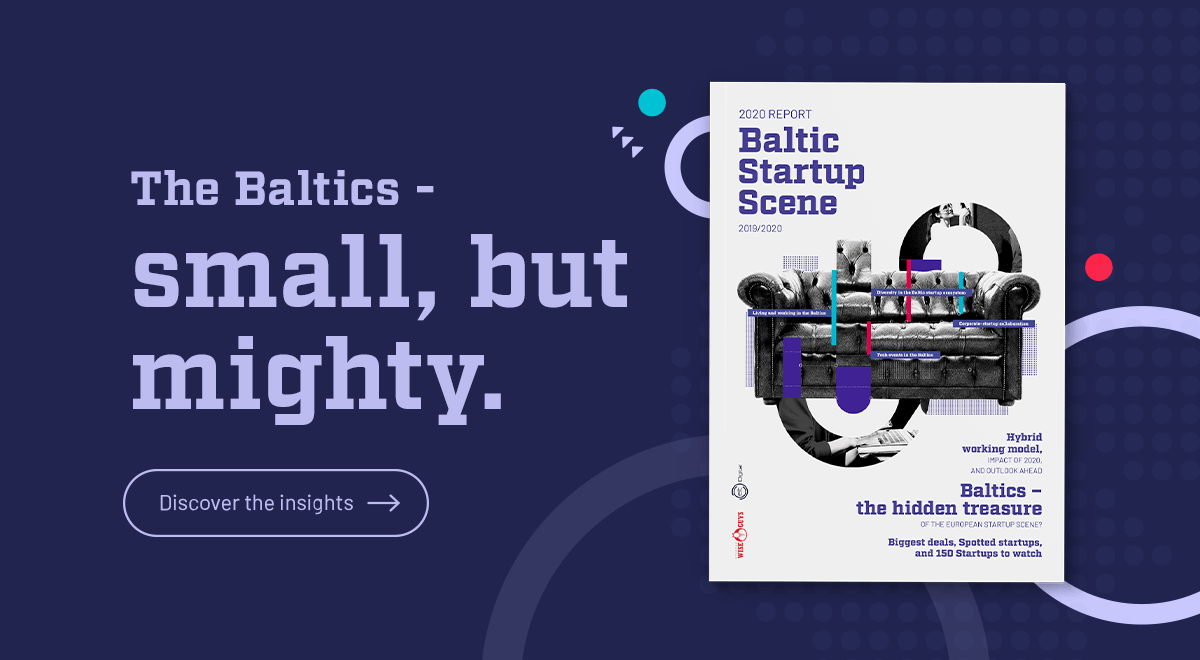 In the news
According to recently published The Future of SaaS report by 500startups, over $48 billion was invested across 2,600+ companies in SaaS in 2020. This value outstrips the prior high in 2019 – $43.6 billion – by a considerable amount. At 15%, SaaS funding volume as a proportion of overall global venture activity has hit a decade low, signifying potential maturation within the space.
Estonian startup Pactum – one of "The Usual Suspects" of Baltic Report SaaS startup list and also the new venture of Martin Rand – the founder of Startup Wise Guys portfolio first exit Vitalfields – announced a Series A round with Atomico and launched a new offering "negotiation as a service" aka NAAS. Another "usual suspect" – Lithuanian Interactio – helped European Parliament move to remote interpreting in 2021. Whereas Latvian legaltech startup Juro recently launched an open-source privacy notice solution. These are only a few news updates about startups listed in the B2B SaaS list as "The Usual Suspects", however, below we invite you to check 6 up-and-coming "Hidden treasures" of the Baltic SaaS startup landscape.
---
6 SaaS startups to watch*
Watalook (Lithuania) – Online marketplace for booking freelancers in the beauty industry
Fjordhub (Latvia) – Planning, attendance control, and interaction platform for employees in retail and manufacturing
Excelify (Latvia) – Service for Shopify stores for integrating, migrating, and managing data in bulk
Eventornado (Estonia) – Solution for running hackathons more efficiently and with no hassle
VITS (Estonia) – Virtual health and safety specialist
Zeew (Estonia/Egypt) – White label online ordering platform for food, grocery, single store businesses
* Full startup to watch list is available in the Baltic Startup Scene Report, as well as in the digital database.
Methodology
This Startups to watch list is an excerpt of "150 startups to watch list" from the Baltic Startup Scene Report. It is meant to give an insight into the most exciting startups in the Baltic ecosystem. In this list we have given the spotlight to the "Hidden treasures" – early-stage startups that have raised less than 100K eur (at the time of creating the list), launched in their home markets, are showing great potential, but might not have any significant traction just yet. Some startups listed in this category have traction but lack visibility. This category was curated by market insiders with insight into the hot potential of these startups.
Startups to watch list is calibrated with Crunchbase data on funding and curated together with our awesome contributors such as startup associations and business angel networks in all 3 countries, VC funds Imprimatur Capital, Change Ventures, accelerators BuildIt, Commercialization reactor, experts in particular verticals like Davids Stebelis and of course – the whole Startup Wise Guys team.
---
About Baltic Startup Scene Report
For investors, startup founders and Baltic ecosystem builders, the Baltic Startup Scene Report is the go-to-place for an aggregated, qualitative and comprehensive data-backed outlook of the Baltic startup scene and investment opportunities in the Baltics.
It is a collection of various data sources and angles of the startup ecosystems within the Baltic states. The report dives deeper into essential topics such as Baltic startup investments and startups to watch, most prominent investment deals, startup visa regulations, digitalization in the region, corporate innovation, and much more.
☝️ Limited amount of printed copies of the Report available on demand. Please fill this form if you'd like to get a copy.