It's that time of the year, when we, Startup Wise Guys, together with our long term partners EIT Digital publish probably the most comprehensive overview of Baltic Startup Scene. While there is plenty of research per country, we feel that the Baltics are a phenomenon of its own and deserve to be analyzed as a whole plus benchmarked with other regions. Therefore the second year in a row with great help from the ecosystem we give you – Baltic Startup Scene Report 2018/2019.
While we urge you to take your time (maybe over Christmas holidays) to flip through the 70+ pages of the full report, we have also generated a shorter material with some key learnings to get your appetite running.
Finding nr 1: Baltics have outperformed Nordics in terms of per-capita investment in startups
While in absolute numbers Nordics are still way ahead of the Baltics (2.28B eur vs 598.1M eur), looking at funding per capita Baltics have gone ahead with 99.03 eur vs 85.05 eur. If in 2017 only Estonia could compete with the Nordics in terms of per-capita data, then today it seems to be a pan-Baltic trend proving that this 6 million market is indeed a booming place for startups.
For historical funding data in the Baltics see page 9, for benchmark with Nordics – pages 16 & 17 of the report.
Finding nr 2: Lithuania has had an impressive growth in 2018/2019
Estonia being a leader among the 3 Baltic countries in terms of tech & startups doesn't surprise much, the country is globally known for its E-residency program, Transferwise, and other 3 unicorns and having probably one of the tech-savviest societies in the world (did we mention also its own startup movie?). However, this year's report shows another interesting tendency – Lithuania that could be considered somewhat silent in 2017 in terms of investment scene and ecosystem activity, in general, has really picked it up in 2018/2019. Apart from celebrating its first unicorn – Vinted, Lithuania has also experienced an impressive jump in overall startup funding (>700%).
EU funding and other public intervention give a huge boost to the startup ecosystem. In 2018/2019, new equity funds were launched in Lithuania, including accelerators financed from EU structural funds. That gave another impulse for the development of the ecosystem – there was an increase in the number of investments, as well as more possibilities for startups to get acceleration services and initial investments,''

explains Vilija Sveikauskiene, Senior Project Manager at INVEGA
Finding nr 3: Mobility sector has outpaced Fintech in biggest investment deals in 2018/2019 Q3
Baltics are definitely known best for Fintech – think Transferwise, Monese, TransferGo, Mintos, TWINO, Nordigen and others. If in the previous report it was Fintech scene shining on the Biggest deals list, this year – surprise, surprise – it is mobility, mostly thanks to Bolt (ex-Taxify) 150M eur round. However, we believe the picture will change, as there is way more early stage activity in Fintech than Mobility, where there are a few big players (Bolt, CityBee, Trafi, Carguru, etc).
Find out more about the Biggest deals on page 10 of the report. However, if you are more interested in the upcoming superstars, check our curated startups to watch lists in Extended Fintech (page 48, 49) and Mobility (page 58, 59).
Finding nr 4: Baltics made up to almost half of total venture capital raised in CEE
Startups based or originating from Central Eastern Europe (CEE)* raised 1.3B eur in 2018. Interestingly enough, almost half of that, namely, 46% or 598.1M eur came from Baltics based startups. When talking about CEE, we refer to 15 countries: Poland, Greece, the Czech Republic, Hungary, Romania, Bulgaria, Ukraine, Croatia, Slovenia, Slovakia, Belarus, Albania, and all 3 Baltic countries, Estonia, Latvia, Lithuania.
(Read more on page 16 & 17.)
Finding nr 5: Baltic tech scene is very much female driven
While we cannot talk about an equal number of female and male startup founders just yet, all 3 Baltic countries are ahead of the European average in terms of women in the ICT sector. Moreover, once you get in touch with the main organizations driving the ecosystem in each country (startup associations, tech events, accelerators, co-working hubs), chances are high that you will be meeting up with a lady. There are also 5 active organizations driving women-in-tech movement in the Baltics.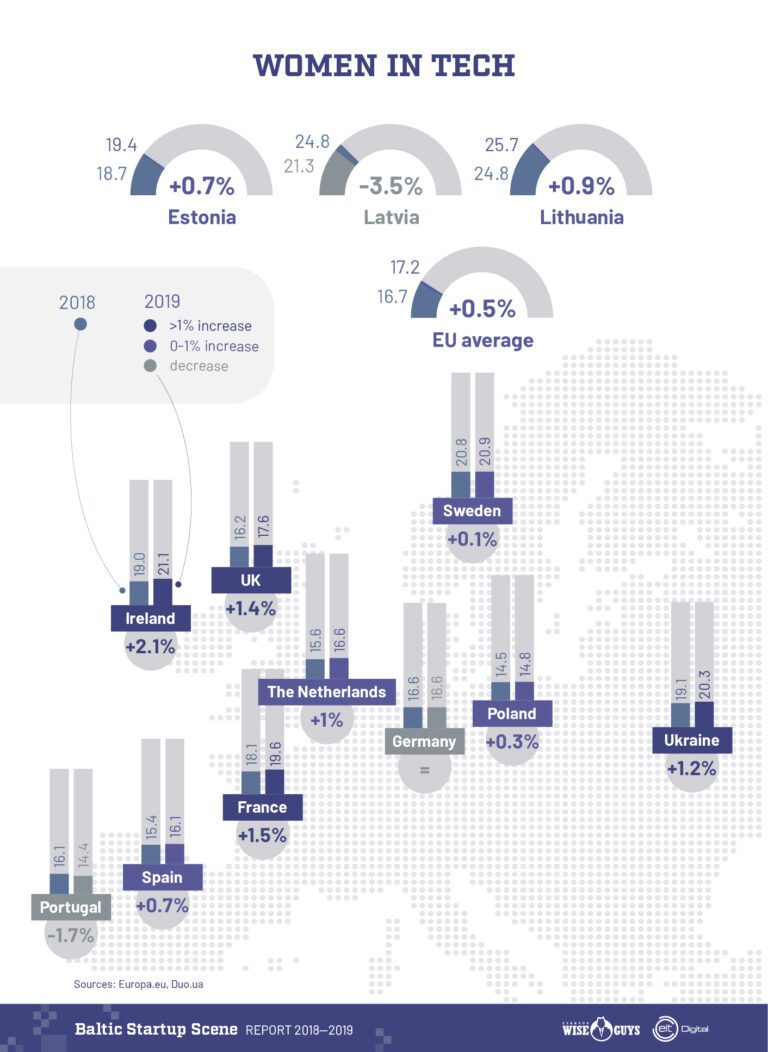 Read more on pages 38 – 40.
"..working in a team of like-minded people can lull the brain into the state of complacency that will diminish performance and discourage innovation. Therefore, the gender balance in teams needs to be fostered to increase the competitiveness, productivity, and chances of innovations and flow."

Solvita Kostjukova, Co-founder & CEO ALINA LLC.
---
You can download the full report here, and Startup Wise Guys team will also be distributing a limited number of printed copies at top tech events in 2020 – starting with sTARTUp Day and TechChill. Enjoy and let us know how you like and what else you would like us to research in future reports!