Our SWG family has been reading a lot (if not even more) this year as well. And now that the holidays are starting and we will all have more time in our hands, wouldn't it be nice to have a list of some great books to go through within this time? We've put together this Christmas reading list for you! Here are some book recommendations from our family in no particular order. Let us know how many you manage to go through! And if that's not enough, you can check our entire bookshelf.
If you'd like to start receiving monthly reading recommendations, sign up here for our Newsletter!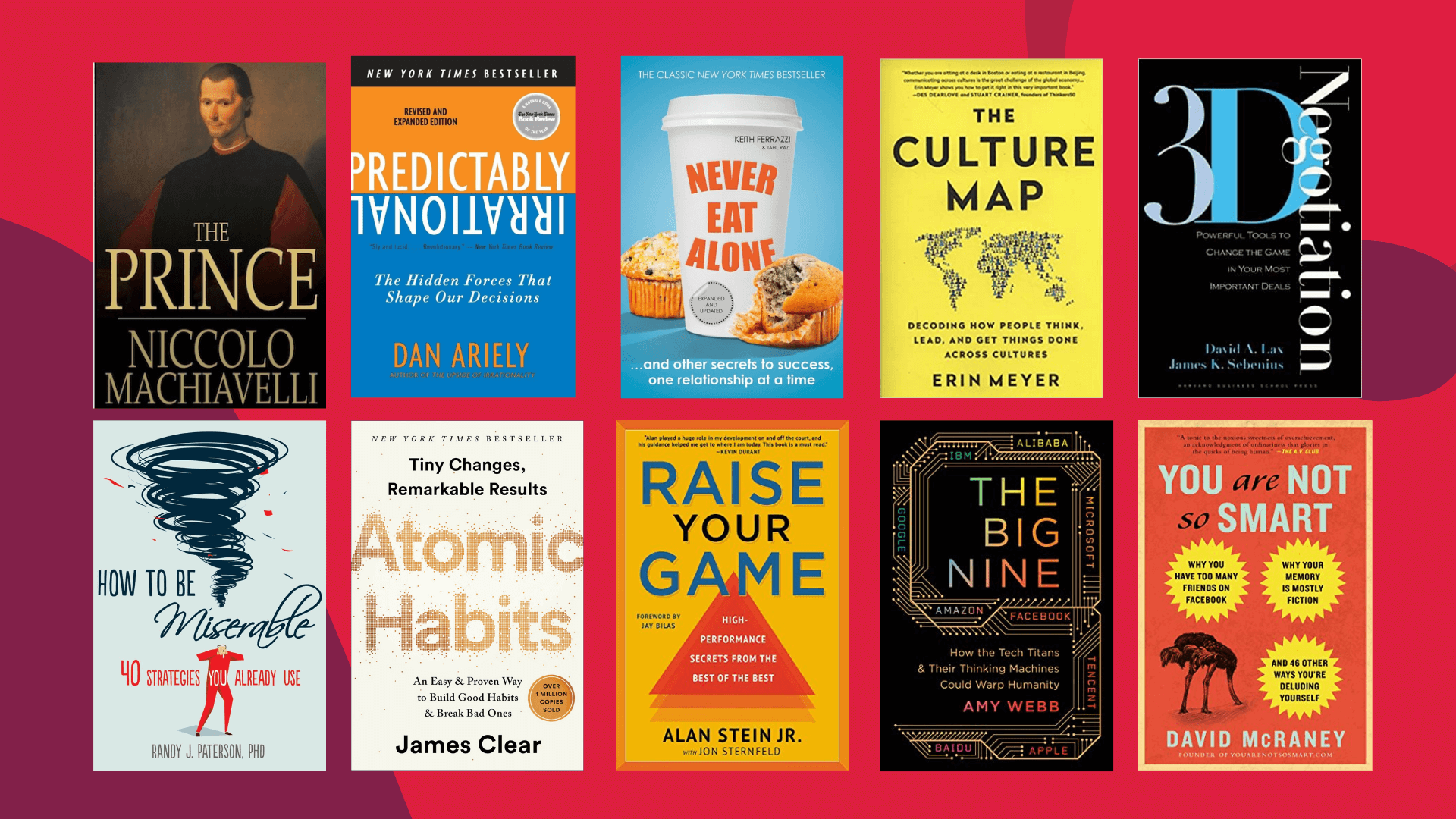 The Prince by Nicolo Machiavelli
"This book has made an unexpected impact. Despite having been written some 500 years ago, it's packed with actionable people management advice that is still applicable today, and has surprising parallels to building and running a company (nation-state in Machiavelli's terms)."
Suggested by business strategy mentor Artyom Chelbayev.
"Why "free" works like a magic wand? How pricing anchors are established? Why do you want to play according to social norms, not monetary norms? I rarely come across a book that is entertaining, useful, and based on quality research. This is one of them. One of the cornerstones of the behavioral economy."
Suggested by strategy and leadership mentor Greg Albrecht.
"I was convinced, for a long time, that with stamina and skills I could have done anything, succeed in everything. (Un)fortunately, this is not true. The greatest asset a senior professional (and a startup founder) can have is his network. Whether you are fundraising, selling your product, team building, you should never underestimate the importance of your network. This book will give you valuable insights on how to do it."
Suggested by our Partner in Italy Andrea Orlando.
"Erin Meyers provides a great structure to understand and compare how different cultures do business around the world. It is very helpful for entrepreneurs who are starting to expand their operations abroad. She also has an online tool that companies can use to compare different cultures and better understand how to deal with other countries."
Suggested by our marketing and international business mentor Rodrigo Olmedo.
"Lax and Sebenius distinguish three dimensions of negotiation: from building interpersonal relationships, through the actual creation of value and the shaping of a deal to the third dimension. Are the right partners really at the right table and how much room do they have for negotiation? This is about getting the maximum potential out of your next negotiation."
Suggested by our investor negotiations mentor Petra Wolkenstein.
"There are so many things we do on autopilot everyday that are making us miserable – although many of them might seem obvious. The book is well written, easy to read and fun, you might not even notice that you have completed it. And don't even get me started on how useful this is for founders – did you know that founders are 49% more likely to report mental health conditions?"
Suggested by our own Andra Bagdonaitė.
James Clear, one of the world's leading experts on habit formation, reveals practical strategies that will teach you exactly how to form good habits, break bad ones, and master the tiny behaviors that lead to remarkable results.
Suggested by Jon Bradford.
A biologist and a data scientist manage to take you on a roughly 300-page journey of critical thinking. It covers Freud's cocaine-fuelled rhetoric and the hidden cause of Murphy's law. It even throws in an experiment with a dead Atlantic salmon in an fMRI machine. I read it in gradual bursts with my morning coffee while leaving fiction for the evening. Cat people will love it*.
* See pages 41-44.
Suggested by Gleb Maltsev.
Big Nine helps you to understand what the impact of AI could be on humanity for good and for bad and what needs to be changed. You will probably want to switch off your internet browser by the time you finish reading it.
Suggested by Patrick Collins.
We negotiate all the time. When it really matters it tends to be that we are in a situation that is new and different. It takes practise and experience to learn from mistakes. Joshua N. Weiss has put together cases demonstrating different situation and how they were carried out. The stories vary from the outset and power dynamics but they resemble situations that you may face in the future.
Suggested by Patrick Collins.