We tried something different this year and asked for your input within a Startup Scene Survey about the impact of 2020 on startups, investors and ecosystem players and their outlook ahead. We have analyzed the data and are gearing up for the launch of the Baltic Startup Scene Report 2020 in December (btw, you can sign up to be among the first to receive it when it's live!), and in the meantime, we wanted to touch upon a trend we noticed.
Dozens of people shared their experience and pointed out multiple challenges they face while working remotely. Some that repeatedly came out: loss of team vibe and company culture, communication hiccups, struggles with onboarding and team management, as well as work-life balance. And while we will be diving deeper into the hybrid work topic within this year's report, we wanted to take you a bit back in time to the previous one and the topic of company culture that we covered last year. Dive into this longer read from the last year's Baltic Startup Scene Report and find out the secret souce of Bolt, Printful, Nordigen and other culture-driven companies.
---
Having a fully fleshed-out company culture is a trademark of every successful modern enterprise. Whether it's an up-and-coming startup, operated by a handful of college buds, or the corporate hallways of a seasoned company. Apart from being a clear sign of a forward-thinking enterprise, company culture is directly linked to employee satisfaction and productivity – a crucial relationship, and one that's best not overlooked by any business-savvy team leader out there.
Today, a healthy, positive company culture is at the top of the qualities that job seekers hope to find when looking for their new job.
A different take on the theme
With a ripening local startup scene, the Baltic states display pretty much every quality that would feel at home in any other startup ecosystem, be it that of the United States or any other developed Western Country. While it's easy to picture colorful yoga balls during a brainstorming session, the reality of the Baltic startups is a bit different.
To get a better mental image, try picturing the same colorful startup scene you'd associate with the entrepreneurial giants residing in San Francisco, but distill it with a bit of Nordic restraint, a shared appreciation for punctuality and less enthusiasm for abrupt changes.
Practicing a blend of team-first culture, horizontal corporate culture and clan culture, startups in the Baltics tend to endorse collaborative process, employee independence, internally-driven work process and a family-like atmosphere.
Today, healthy, positive company culture is at the top of the qualities that job seekers hope to find when looking for their new job. However, it's one thing to be aware of the concept and an entirely different one to successfully implement it in real life.
How company culture comes out in the Baltics
Many companies, startups, and scaleups have embraced an internal company culture. Some more vocally than others. And while there's no one-size-fits-all approach, it is clear that the devil lies in the details and the most important factors to implementing company culture in an organization are: early implementation, repetition, communication and prioritization.
Here are a few ways Baltic startups are making these principles present in their organizations.
Clear communication of values
One of the defining factors of company culture is making it known to everyone within the organization. This lays the foundation for everyone to be on the same page and allows each individual to participate in driving the organization towards one unified goal.
For example, the founder and CEO of Bolt, Markus Villig, famously quipped that the initial company culture revolved around the idea that "there are no rules". This has been a driving factor in continuing their rapid growth and "move fast and break things" attitude. This is still reflected in their approach to hiring, where they emphasize employee adaptability and resilience.
Startup Wise Guys, meanwhile, has a set of clearly-defined, get-shit-done-centric values, which must be continually communicated, as their program participants change with every batch. Being clear on what they stand for and what their approach is has helped attract startups and various partners that share the same values. As of last year, they have included a company culture and performance module in the acceleration program, and teach their startups early on that aside from product development, they actually have a company and team to build.
A different approach to the implementation of company culture is demonstrated by Printful, which provides new employees with a list of must-read books, such as "Rework" by Jason Fried and Daniel Heinemeier Hansson to teach employees principles on "working smarter, not harder". This contributes to the overall goal of maintaining a lean startup approach to a rapidly scaling company.
Regardless of the values chosen by the startup, the most important factor in its implementation is the clear and regular communication of them, in any way possible.
Ownership of culture
Culture doesn't just materialize out of thin air – it requires a mindful approach to defining and aligning responsibilities. This requires prioritizing the time to define core values. As noted by expert Stoyan Yankov, startups can take rather different approaches in the process. He has interviewed a number of Baltic startups for a book on performance that he is co-authoring with Cristobal Alonso.
"Take for example the founders of Printify and Nordigen. Both are successful companies from the region, and both agree that values are important to talk about at an early stage. Yet – they have different approaches towards the way it should be done. Printify believes the founders should be the ones to set up the values in the first place, to build up the underlying DNA of the culture, and then have the team join them on the mission. Nordigen follows more or less the opposite approach. The team, while guided by the founders and team leads, is expected to take a leading role in defining the values. The premise is that by including the team closely, they will be more likely to "buy in" to the values and really live them."
Yankov highlights that there is no right or wrong approach, but that what is most important is consistency, and making the space for culture a priority. He highlights that this is not a "sexy" process, but is necessary, because when it's time for a company to scale, it's too late to start artificially implementing a culture.
Culture of mental health
One aspect of a company culture that is receiving increasing amounts of attention in the startup community is the topic of mental health, burnout, emotional resilience, and grit. Yankov highlights that the Baltics are doing a particularly good job at addressing the cultural aspect of mental wellbeing.
"The Baltics, comparatively, are doing quite alright. For example, principles of Asian mindfulness are not new, and are being actively implemented. While traveling around I still run into startups relying on sweets and energy drinks to push through productivity barriers rather than a health-based approach."
These trends seem to echo in the start-up products as well, for example, one of the currently trending Latvian startups Asya.ai is developing a mindful conversation app, whereas Lithuanian startup Qoorio is tapping into knowledge-sharing that is not based on career-related or academic experience, but rather life lessons, thus creating a platform where people can connect and learn from each other.
Mental health in startups and founders is a topic that has been highlighted by thought-leading events, such as TechChill and the Digital Freedom Festival, bringing in specialists to talk about the need for conversations on mental health, and Buddist monks leading meditation exercises. It is no surprise, then, that these values have trickled further into the cultural fabric of local startups.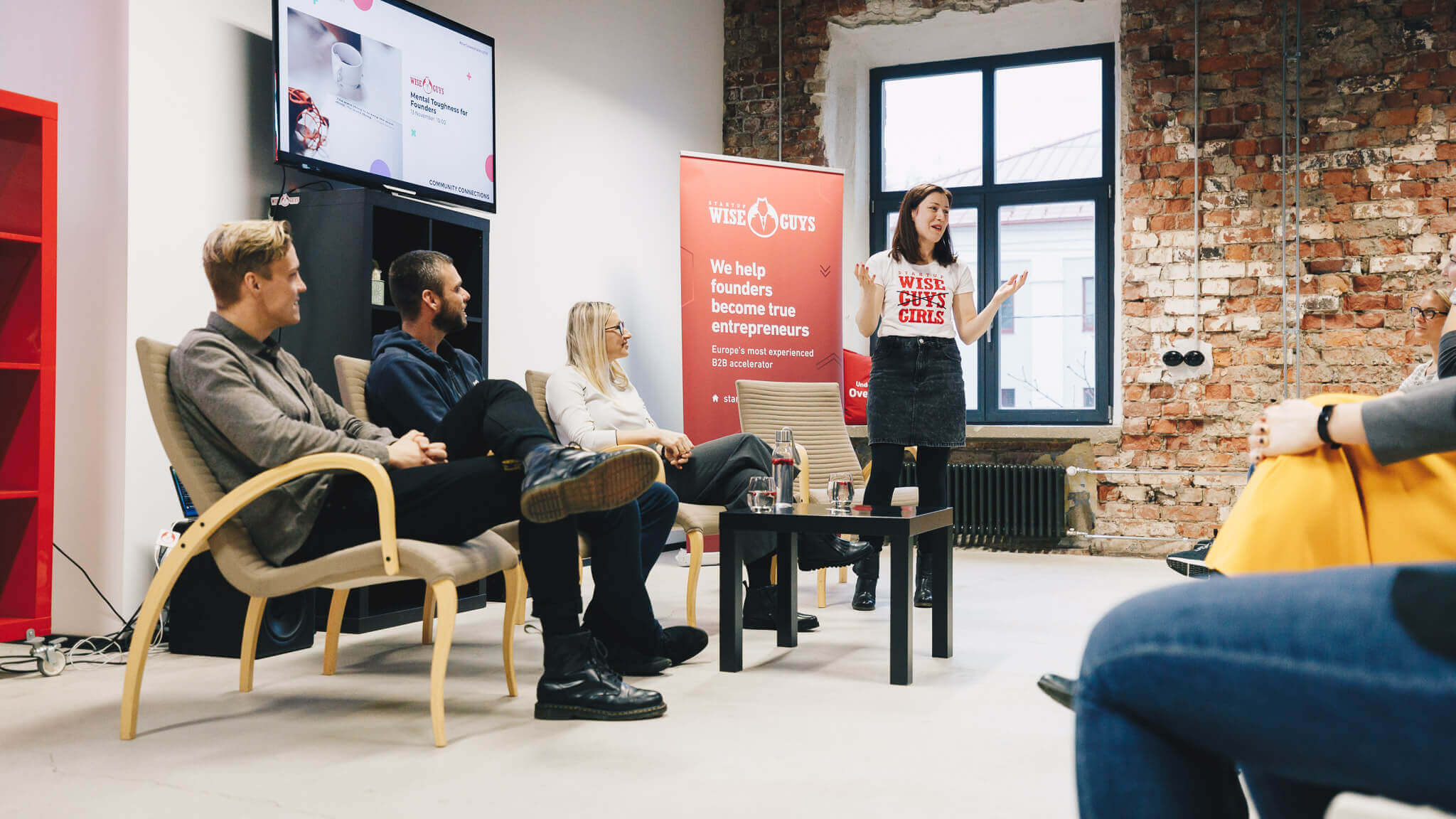 The present and the future of culture-driven companies in the Baltics
With a high number of operating startups, tech hot spots, great entrepreneurial potential score on the global chart and undeniable zeal for getting things done, the Baltics have their fair share of successful, world-famous culture-driven startups.
Is the culture-driven model working for them? Judging by the million-dollar investments and new offices opening all over the world, we're inclined to believe it does. Is there still some room left for growth? Absolutely.
With nearly a decade's worth of industry experience, plenty of role models, and increasing international recognition, it's about time for the companies operating in the Baltic states to offer their original take on company culture to the rest of the world.
---
The content of this article was originally published in the online and print version of the Baltic Startup Scene report 2018/2019. The Baltic Startup Scene Report is the go-to-place for an aggregated, qualitative and comprehensive data-backed outlook of the Baltic startup scene and investment opportunities in the Baltics.
In 2020, we're thrilled to bring you the third edition: the Baltic Startup Scene Report 2019/2020. This is the third year in a row Startup Wise Guys have come together with EIT Digital to publish the report and make its finding publically available at the end of the year, mid-December. Sign up to be among the first to receive it in your inbox.