sTARTUp Day and TechChill has for sure warmed up the tech event season in the Baltics and what crazy months still ahead of us! In our previous blog post "Mental health and self-management at the core of this years TechChill" you can read our takeaways from the keynote speakers at TechChill, but we have more to share. And this time — from startups perspective: what was the new expo concept at TechChill and how to gain visibility, why participate at pitch battles and how to make the most of after-parties and side-events.
Being visible pays off, so does preparation
For the first time TechChill organized Startup Lounge — the center of the event venue was dedicated to hand-picked startups, suggested by ecosystem partners. Don't let the comfy sofas and laid back atmosphere misguide you, they were at the spotlight of attention, making scheduling meetings easier, but also getting more organic reach, i.e., interest from investors, potential clients, as well as passersby.
Our Batch 10 alumni Joosep Sild, CEO at SmartVent, was amazed by the visibility gained from the Startup Lounge and its effect also on the matchmaking app. Being among the selected startups meant natural interest from people that maybe otherwise would be harder to access. And even though they had to guard their spot like a castle from tired attendees that wanted to grab a seat, TechChill opened new doors for them.
"We are a startup from this region, so we have to "be present" at events like this! After TechChill we sent about 10 good follow-ups, so it's worth it!"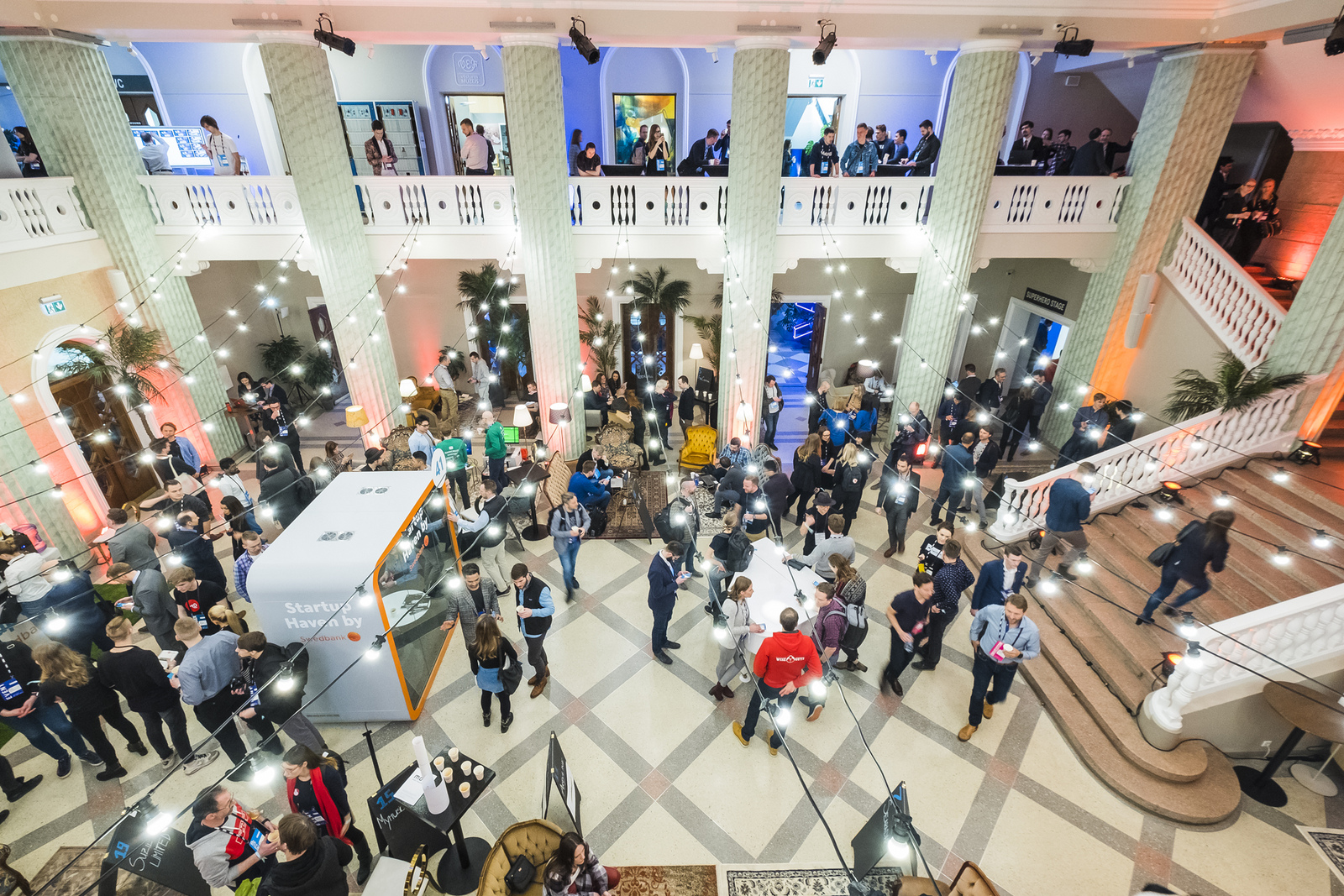 Batch 12 alumni Ziticity took Startup Lounge presence to the next level — they were wearing the greenest sweaters in the house (and for sure you can spot them in any picture from the event) and had arranged a fun activity for anyone who stops buy: a fortune wheel with prizes like hipster snack, gluten free orange, vegan water and more. Who wouldn't want to try it? Definitely a great conversation starter, even if the person was not necessarily initially hooked by the brand name or company's promise on the same day delivery service. But this story is not that much about creativity, as it is about preparation:
"We spent 8 hours to prepare for Techchill. In return got 4 potential customers, met 9 VCs, filled recruiting pipeline and got a €50k soft commitment on stage. One could say that ROI at Techchill was pretty OK."

Shine on stage
If Startup Lounge access was strictly invitation-only, then TechChill "50 Founders Battle" was the open way for any startup to get on the stage at the prime-time, of course subject to being the best at telling their story.
While almost every tech event runs a startup competition, you might ask — ok, so what's in it? In some cases it is the prize, in others it is the free ticket that you get along with getting into finals, but mostly it is a push to perfect your pitch and get more attention from your target audience (be it investors, customers, partners or potential employees) than you simply being a person from the crowd.
This year more than 200 applications came in and 50 teams in 5 verticals were selected to participate for the main prize. Shout out to 14 of our alumni, who were on this list: Partly, Ninja Lender, Consorto, Expact, Orocon, Razzby, Ziticity, Zirity, Drone Pilot, Polisensio, Squad Robotics, NeoSound, Precision Navigation Systems aka HIVE & Castprint!
This already made us really proud, but the story doesn't end there! Two of our alumni got into the finals and as you might judge from the quote above Ziticity was among the winners getting a soft commitment of 50K EUR investment from a syndicate of 22 Business angels, whereas Precision Navigation Systems aka HIVE took home the main prize at "50 Founders Battle"!
The energy in the room at the finals was electric! And you don't have to be a winner to gain an extra dose of adrenaline and some happy hormone boost seeing these hard-working individuals. But having both of our recent alumni taking the main prizes, we couldn't hide the pride and sense of belonging to a big friendly family, or as Alexandra, the Managing Director of both winning batches said:
"When both of them were pitching in finals, my heart rate shot up. When both of them won, I screamed like hell. And you know what is beautiful? When I looked around, I saw all SWG team, and all batch alumni screaming, crying, smiling, and clapping together."

So, if you are convinced that such competitions make sense, take a look and apply for upcoming pitch battles at Latitude59, Emerge and Startup Fair.
Matchmaking doesn't end at the deal room
What else is there? The legendary after-parties, but even more so — many valuable side-events. It has become a tradition for SWG to organize networking drinks and top tech events around the Baltics (next coming up at Latitdue59) and our startups always say that it is the perfect moment to take the formal business contacts gained during the conference to a more relaxed environment. And actually, we've heard the same from investors!
Besides, apart from scheduling a chat by the beer, you can also just go with the flow, as you never know whom you might run into. Apart from probably the best mix of speakers, founders and investors, we were honored to have even the ex-president of Estonia casually visiting our TechChill drinks organised together with EIT Digital. Another side event gathering an awesome crowd was the Demo Day of our second Fintech batch run in collaboration with Swedbank. We see great value organising our batch finale at events like TechChill and judging from the mur-mur in the crowd and quality networking, also this format works well.
To conclude, if you have gone to a tech conference and it just didn't feel right, that's ok too. You have to find your way in, but don't give up! This years TechChill winner and our alumni Simon Litvinov, CEO of HIVE, can give a few reasons why to keep on trying:
"Basically our European journey started exactly 1 year back at Techchill. I came there from Omsk (Siberia, Russia) without knowing a single soul. After a year I felt like I know every second person and there were a lot of smiles and handshakes."
It's a humble comment from a pitch battle winner and a successful alumni of the top accelerator in the region, but it also proves the boutique event concept that all Baltic tech conferences seem to be following. We could even say that "small is the new big". While SLUSH and Websummit of course are epic events, it is at these 2000 attendee events where you can still feel cozy and randomly stumble into almost every person you should meet. See you soon at the next event and keep an eye on our website or subscribe to our newsletter to see where our team and startups are planning to be.