Fintech, fintech, fintech, over the last couple of years, everyone in the Baltics is talking about Fintech. Not only because of Baltic-born superstars like Wise (ex TransferWise), TransferGo, Monese, Nordigen, Estateguru coming from this region, but also due to a large volume of up-and-coming Fintech startups in the 3 countries and Fintech friendly regulations and initiatives such as Lithuanian banking licence and various sandboxes.
In terms of funding, Fintech vertical in the Baltics did not experience decrease of seed rounds as in other verticals. After the initial standstill when pandemic hit the Baltics, the investment activity resumed. Pandemic also opened up opportunities in certain areas of Extended Fintech such as startups dealing with debt and lending, wealth management, insurance, costumer data privacy and SMB finance. Those who had managed to jump in with these services emerged as winners in Q1 and Q2 in 2020. Add to this an increasing trend of sustainable finance and finance for specific societal groups (such as aging population, kids, unbanked individuals) and we have a number of new Fintechs being launched even under the eyes of the pandemic.
---
Below you will find a list of 6 Baltic Fintech startups to watch from the Baltic Startup Scene Report 2020 brought to you by us, Startup Wise Guys, and EIT Digital. This list is curated by the most reputable local investors and experts and calibrated with data from Crunchbase.
We at Startup Wise Guys have been successfully investing in and accelerating Fintech startups since 2018. If you are on the lookout for investment and more brain power, check our open applications.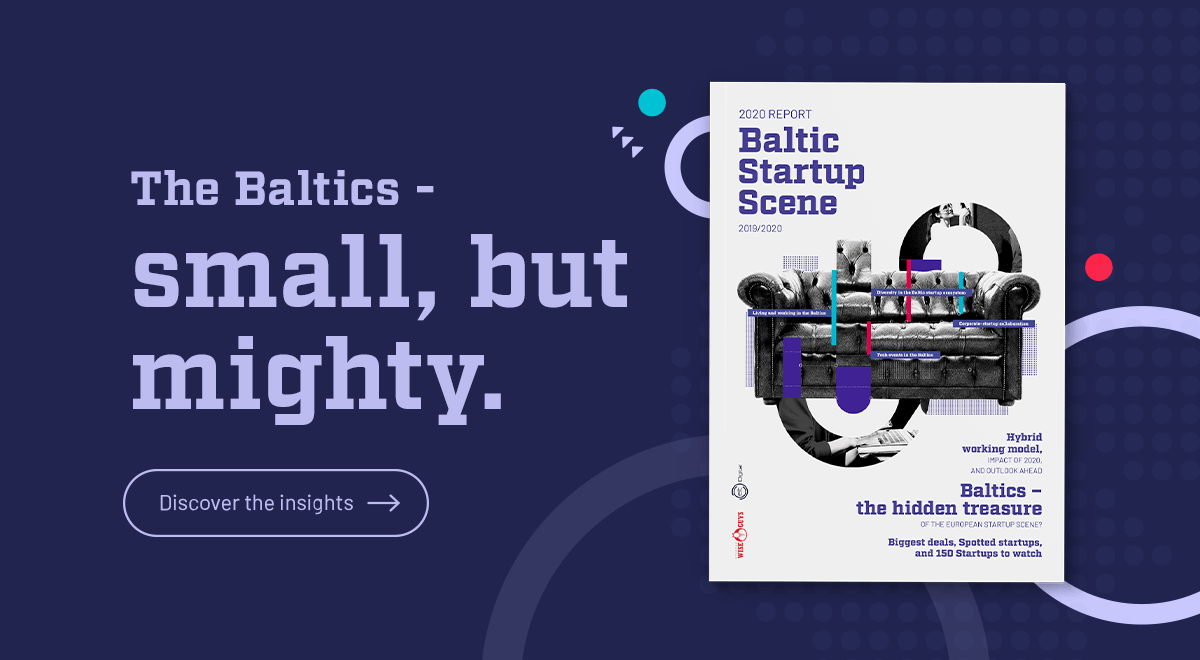 In the news
Lithuanian Fintech Dappradar just announced a 4.1M eur series A round with investors such as Prosus Ventures, Blockchain.com Ventures and NordicNinja VC. You will find this company on the Baltic Report's Startups to watch list under the "Usual Suspects" tag. Another one of "Usual Suspects" of the Fintech startup list and also Startup Wise Guys portfolio company Estateguru (Estonia) just released news that April's financing volume on their platform has reached more than 14 million euro and the German market has become the primary contributor of new projects on their platform. They have also recently raised additional 1M eur via equity crowdfunding platform Seedrs. Latvian Fintech Nordigen launched free European open banking API in the end of 2020. Not your usual Fintech – a car subscription company tackling African market out of Estonia – Planet42 – announced their plans to go carbon neutral thus adding environmental aspect to their otherwise social impact driven startup.
---
6 Fintech startups to watch*
Ooniq (Lithuania) – Mobile phone insurance
Properenty (Lithuania) – Rent management software
Heavyfinance (Lithuania) – Investment marketplace in loans backed by heavy machinery
Flipful (Latvia) – A tool that enables companies to provide their employees a flexible salary pay-out
Vialet (Latvia) – Financial service management tool
Forpeeps (Estonia) – Payment and mobile credit card platform
* Full startup to watch list is available in the Baltic Startup Scene Report, as well as in the digital database.
Methodology
This Startups to watch list is an excerpt of "150 startups to watch list" from the Baltic Startup Scene Report. It is meant to give an insight into the most exciting startups in the Baltic ecosystem. In this list we have given the spotlight to the "Hidden treasures" – early-stage startups that have raised less than 100K eur (at the time of creating the list), launched in their home markets, are showing great potential, but might not have any significant traction just yet. Some startups listed in this category have traction but lack visibility. This category was curated by market insiders with insight into the hot potential of these startups.
Startups to watch list is calibrated with Crunchbase data on funding and curated together with our awesome contributors such as startup associations and business angel networks in all 3 countries, VC funds Imprimatur Capital, Change Ventures, accelerators BuildIt, Commercialization reactor, experts in particular verticals like Davids Stebelis and of course – the whole Startup Wise Guys team.
---
About Baltic Startup Scene Report
For investors, startup founders and Baltic ecosystem builders, the Baltic Startup Scene Report is the go-to-place for an aggregated, qualitative and comprehensive data-backed outlook of the Baltic startup scene and investment opportunities in the Baltics.
It is a collection of various data sources and angles of the startup ecosystems within the Baltic states. The report dives deeper into essential topics such as Baltic startup investments and startups to watch, most prominent investment deals, startup visa regulations, digitalization in the region, corporate innovation, and much more.
☝️ Limited amount of printed copies of the Report available on demand. Please fill this form if you'd like to get a copy.