While there seems to be a reluctance to invest in hardware startups from the angel investor side in the Baltics, both IoT and Robotics verticals become increasingly mainstream with many R&D efforts having been heavily supported by EU grants. Thus we're starting to see some of the startups reach sufficient maturity to approach seed and series A investments.
We see numerous developments of these verticals in Latvia in particular due to several factors such as strong focus from local universities on these fields, as well as the only hardware accelerator in the region, Buildit (originally from Estonia), being based out of Latvia. We're also seeing the legacy of a Latvian focus on drones – a trend that was touched upon in the first Baltic Startup Report, and seems to be evidently continuing its traction with startups such as Aerones and Fixar. Meanwhile Estonia is dreaming big – serving major utilities industries, with HeptaAirborne and GridiO.
---
Below you will find a list of 10 Baltic Hardware, IoT and Robotics startups to watch from the Baltic Startup Scene Report 2020 brought to you by us, Startup Wise Guys, and EIT Digital. This list is curated by the most reputable local investors and experts and calibrated with data from Crunchbase.
We at Startup Wise Guys have been successfully investing in and accelerating startups since 2012. If you are on the lookout for investment and more brain power, check our open applications.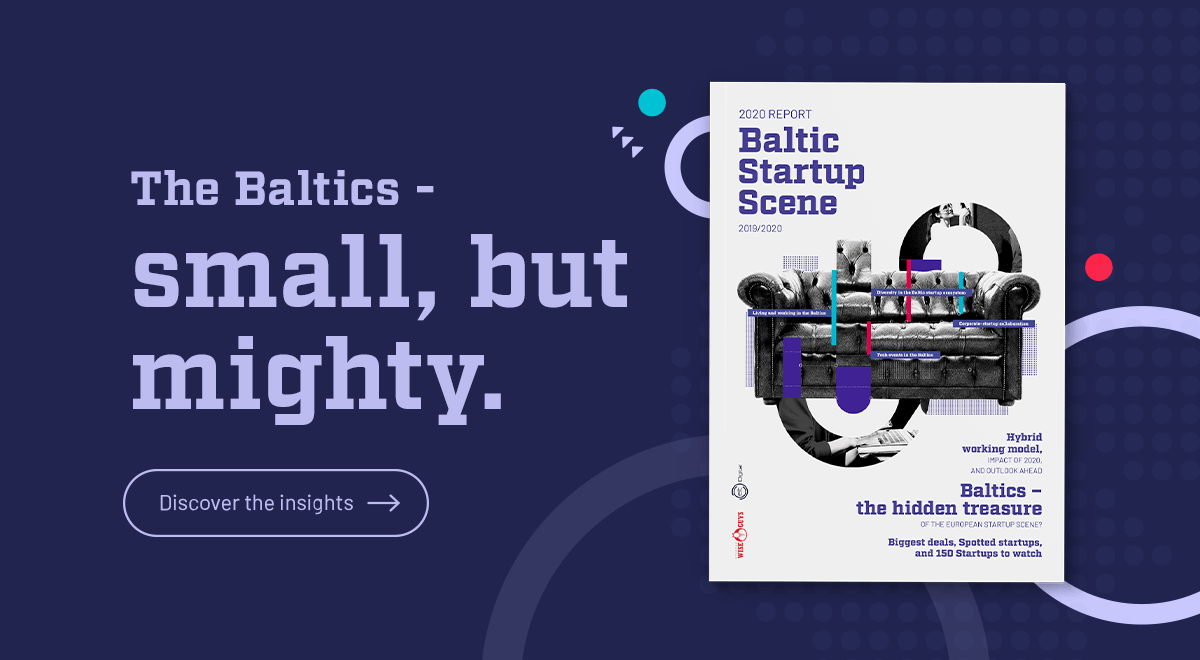 In the news
One of the Baltic robotics superstars – Estonian Starship Technologies – announced a $17M funding round early in 2021. Starship Technologies seem to be a great contactless solution in the times of pandemic and informed that they have recently achieved one million autonomous deliveries. Latvian hardware startup Gamechanger Audio, greatly loved by music industry, released a new product for guitar players – the Light Pedal – which is the first one in the World to use infra-red optical sensors. Whereas, Lithuanian NanoAvionics has signed a contract with OQ Technology, a multinational satellite Internet of Things (IoT) company, to build, integrate and operate a nanosatellite for their 5G IoT mission named Tiger-2.
For more "startups to watch", keep an eye on Buildit Latvia announcements as they are currently running their 13th program for Hardware and IoT startups, as well as – Estonia based Prototron program that has recently onboarded 50 innovative ideas in order to help them develop their first prototype. Also the recently concluded LMT IoT hackathon might brew some new up-and-coming startups in the IoT segment, such as the winning idea of ​​an automated pet feeder.
---
10 hardware, IoT & robotics startups to watch*
Calidity (Estonia) – Data collection and monitoring software add-on for existing building automation systems
Inion Software (Lithuania) – Monitoring of solar plants and production line
Hepta Airborne (Estonia) – Aerial inspection and surveying using Unmanned Aerial Vehicles (UAVs) and Manned Aerial Vehicles (MAVs)
Viezo (Lithuania) – Converts vibrations into usable electricity
Xtimer (Latvia) – Automated timing system for measuring and tracking the performance of athletes
Fixar (Latvia) – FIXAR uses in-house research and development data to manufacture the most technologically advanced UAVs on the market
Roboeatz (Latvia) – Fully automated food service system that cooks and serves hot custom meals without human help
Pomabrush (Latvia) – Electric toothbrush designed for those on the move with a need to charge only 3 times a year
Pulse & Fidelity (Latvia) – Development and production of highend audio systems
Babbit (Latvia) – The worlds first hi-fi speaker that suits the whole family
* Full startup to watch list is available in the Baltic Startup Scene Report, as well as in the digital database.
Methodology
This Startups to watch list is an excerpt of "150 startups to watch list" from the Baltic Startup Scene Report. It is meant to give an insight into the most exciting startups in the Baltic ecosystem. In this list we have given the spotlight to some "On the radar" startups (first three in the list), but mostly to the "Hidden treasures" – early-stage startups that have raised less than 100K eur (at the time of creating the list), launched in their home markets, are showing great potential, but might not have any significant traction just yet. Some startups listed in this category have traction but lack visibility. This category was curated by market insiders with insight into the hot potential of these startups.
Startups to watch list is calibrated with Crunchbase data on funding and curated together with our awesome contributors such as startup associations and business angel networks in all 3 countries, VC funds Imprimatur Capital, Change Ventures, accelerators BuildIt, Commercialization reactor, experts in particular verticals like Davids Stebelis and of course – the whole Startup Wise Guys team.
---
About Baltic Startup Scene Report
For investors, startup founders and Baltic ecosystem builders, the Baltic Startup Scene Report is the go-to-place for an aggregated, qualitative and comprehensive data-backed outlook of the Baltic startup scene and investment opportunities in the Baltics.
It is a collection of various data sources and angles of the startup ecosystems within the Baltic states. The report dives deeper into essential topics such as Baltic startup investments and startups to watch, most prominent investment deals, startup visa regulations, digitalization in the region, corporate innovation, and much more.
☝️ Limited amount of printed copies of the Report available on demand. Please fill this form if you'd like to get a copy.