#SWGMafia has been reading non-stop this year! We have had suggestions coming in on books about customer development and pricing, negotiations, successful investments, coaching, digital marketing, teamwork, letting go and going after a better life and so much more! So we put together a list of ten books (in no particular order:)) suggested by our network for you to deep dive into during the holiday break! 
Enjoy the read, and ping us about the books you'd suggest others to read! But if you are eager to see what the New Year brings, sign up here for our Newsletter and you'll receive three new suggestions every month!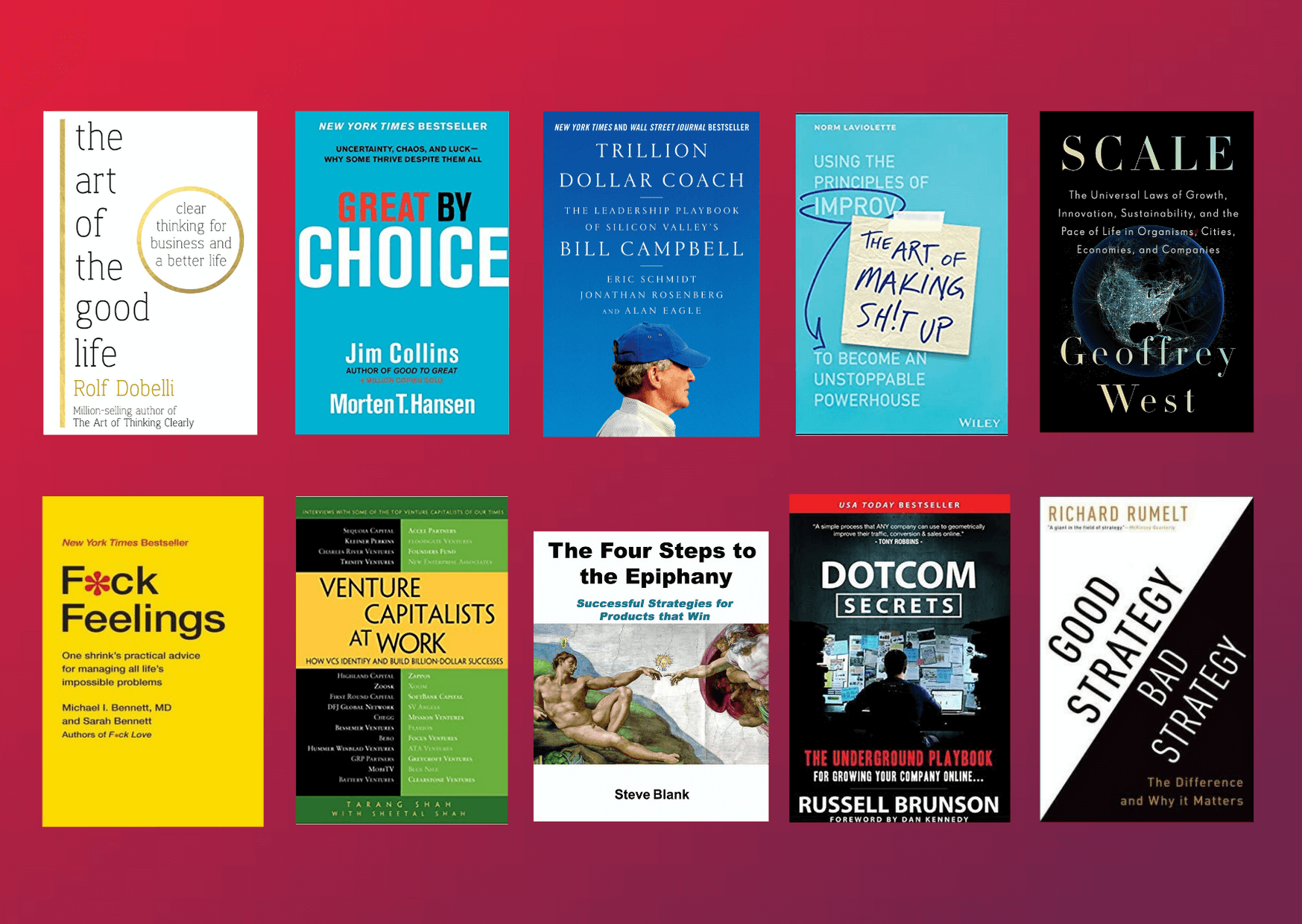 ---
"This is a book about how to build a proper customer development and pricing. It helped us save half a million dollars when we started building our company," suggested by our mentor and co-founder of Competera Alexander Galkin.
---
Great by Choice by Jim Collins and Morten T. Hansen
"One of the best books I've ever encountered. I skip the phrase "business books" with a purpose – its principles apply to life in general," suggested by Wise Guys Fintech I alumni Ansis Farhad Lipenitis. 
---
"Dobelli has written one of the simplest guides for leading a Good Life. Through the fifty-two short chapters, he uncovers most of the thinking based problems that are holding us back," suggested by Batch 6 alumni Sander Gansen. Find more suggestions from Sander here.
---
"Sometimes good advice comes from unexpected sources. How to listen, negotiate,  do teamwork and give better presentations are some of the things this book can give you," suggested by our mentor Petri Kajander. Find more suggestions from Petri here.
---
"This book offers a different way of looking at the term 'scale' that founders and investors throw around during matchmaking," suggested by our pitch coach Gleb Maltsev.
---
F*ck Feelings by Michael Bennett MD and Sarah Bennett
"Written by a psychiatrist and his comedy writer daughter, this book will make you laugh through tears, let go of the control and finally realize that there are things in the life that you can't change," suggested by Karina.
---
"I like books in which the author doesn't tell you what to do, but provides a lot of separate cases and leaves it to the reader to make conclusions. This book is one of them. Overall, the book consists of short interviews with hyper-successful VCs and startup founders, who tell about their successful investment decisions and failures," suggested by our mentor Elena Mazhuha.
---
"A true and amazing inspiration for everyone on how to manage people and/or coach startups," suggested by Cristobal.
---
"This is the book to read if you're trying to grow an online business or just figuring out how to make sales from the very beginning of your business. As for a marketing enthusiast, I really admire it and recommend to anyone who aspires digital marketing as well!" suggested by our marketing mentor Giedre Pociūtė.
---
"After the initial traction, the biggest obstacle of growth is lack of understanding of what you compete with. This book is just about that: going from general differentiation to actually finding advantages," suggested by mentor Igor Sokolov.