Stereotypes, stereotypes. Who likes them? I personally have been struggling with stereotypes at some points of my life both in international contexts (being Italian and living abroad),  but also back home (being from the south and having spent most of my grown up days not in the south). That being said, it doesn't necessarily need to get into labeling people and simplified judgment. It can actually help better behaving and, in some cases, taking a better decision. A stereotype is in fact simply a generalization about how a group of people behaves. 
In the article below, it comes from my direct experience with founders, some of them I coached, some of them I created companies with, one of them (see below) is me. Note to the reader: it may not be statistically accurate, but I had fun having a go at it  (that's really all that matters to me 😊) and I do hope it gives some pointers for reflection. Enjoy!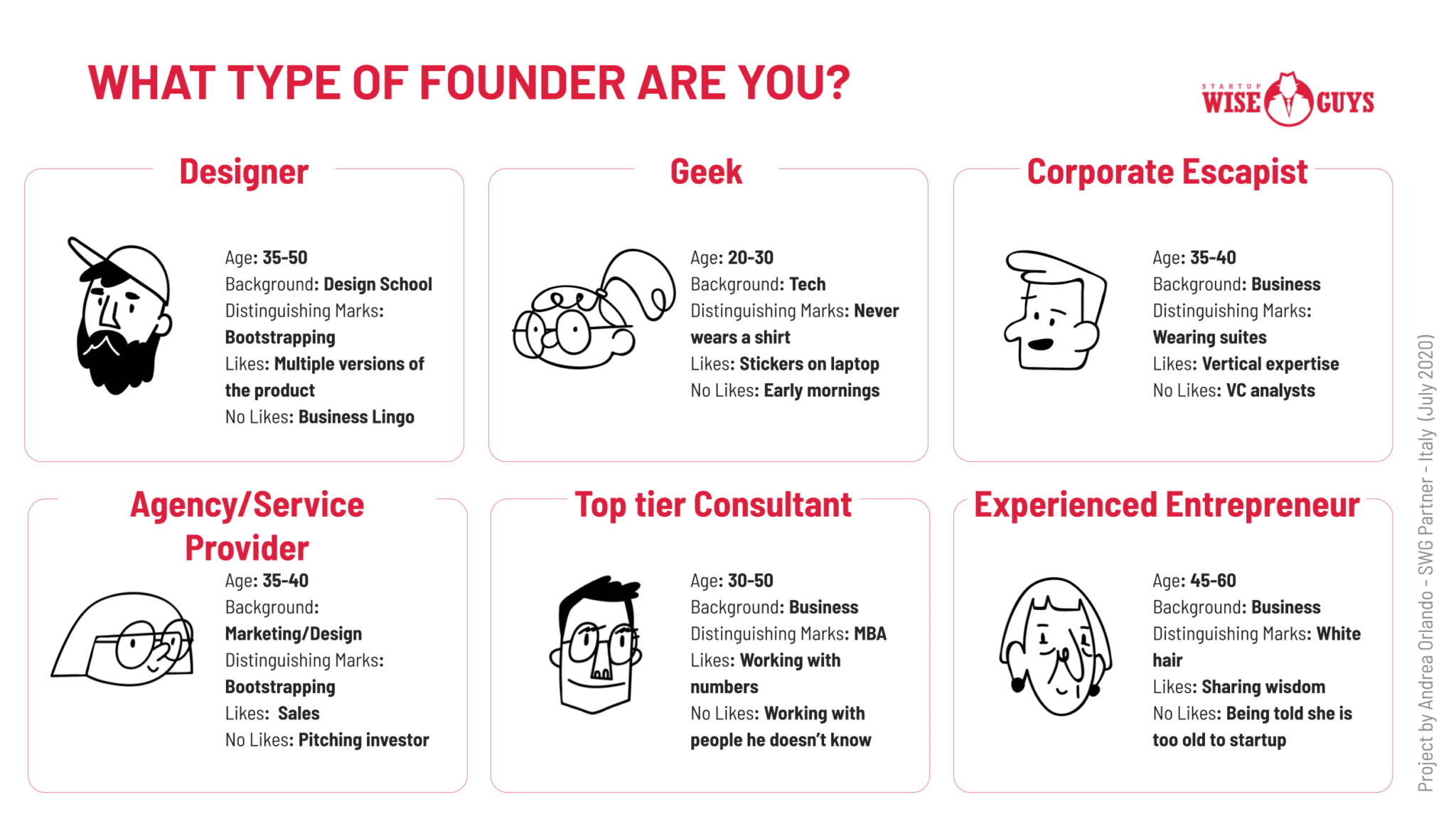 Designer
I start with a designer because my first startup had a designer founder. There is no one better than a designer to talk about product and user experience and customer journey. You ask her for a product sketch, she comes up with a "vision". But "Beware, If thou read this, O Caesar, thou mayst live!": If you think that there are other areas of your startups that you need to cover (Sales? Fundraising? Team development?), you may want to have a clear discussion at the beginning and align expectations or bring on board also a different type of founder that will complement the team (both approaches are relevant for all the below mentioned profiles, so I will not repeat them again).
Geek
With so much pressure on tech talents (see the Nordic case), I think it is fair to say that if you find a "geek" founder you stick to her and you never ever let go of her (good times and in bad, in sickness and in health). In fact, you make sure she doesn't get overwhelmed by bombing her with deadlines and tasks. A small challenge, however. Coming from a tech background, a geek founder, not only will have a "lingo" different than yours but will also come with an overall approach to prioritization and problem solving which may not be what you expect. Can you take care of that, please?
Corporate Escapist
There I am! I am one of them. We feel like the silent Indian (Chief Broom) in "One Flew Over the Cuckoo's Nest" who removed the bath sink from the ground and broke it through the window to run away and be able to say "I am free" (or not really, but don't we all like to be part of a movie metaphor?). Some did it gradually ( I didn't), some overnight (I did). A great deal of corporate connections potentially useful, although the problem with Corporate Escapists (still me) is even when you are outside Corporate, the whole "conflict with authority" issue may stay and your co-founder may want to deal with it as soon as possible.
Agency/Service Provider
I personally love it when a founder comes from a professional service background (i.e. Marketing agency, communication). There is no-one better than them for talking and understanding clients. Your startup clients. They work often in the frontline, and it is likely that the idea for a startup came from being in contact with them so often that they spot an unsatisfied need which will be at the foundation of your journey. Probably P&Ls and cash flow statements may not make them very happy, and it will be your role to make sure you find out what does.
Top tier Consultant
If you come from a big consultancy firm (Big 4, MBB) it is often the case that having worked so intensively as a consultant for quite a long time, you gradually built a desire towards entrepreneurship. Top tier consultant founders bring with them a toolbox, a solid network and strong discipline. They may be generalists (hence often they claim a CEO role in a startup) and it may take some time for them to understand the leadership journey (not big teams to manage in advisory/project related tasks). Just be patient and make sure you give them a chance to develop that side of their personality. They will make your journey worthwhile.
Experienced Entrepreneur
You may think that startup journeys belong to millennials and X generations and there is no room for old socks. Well, think again! When the time comes to turn your startup into a scale-up, you need someone who can act both as a leader and as a mentor for the young generations in the team. Personally, it is also rewarding seeing experienced professionals who may as well decide to have an easier life by enjoying the sweet perks of a successful career and retire, decide to stay in the arena and fight for building something new and being impactful. If that does not make your day, I am not sure what does.
Well, I hope this was interesting for you. Of course, it is often the case where you can find a blend of the above and have in one-person multiple backgrounds/roles. That doesn't really matter. What matters the most is that you keep in mind that while seeking for your perfect co-founder there may be others on the same quest for innovation and disruption but with different backgrounds and you must take good care of that.
---
About the author:
Andrea Orlando is Startup Wise Guys Partner in Italy. He joined our team at the beginning of 2020. He is serving as Entrepreneur-in-residence (EIR) of the current B2B SaaS batch, as well as the face and main driving force behind our brand new JUMP for Italy program.
Andrea is Italian and has lived in 4 countries (U.K, Italy, Denmark, Norway) and worked across numerous industries mostly in strategy functions with a specific focus on turn-around and growth projects. Since 2015, he invested/developed 3 startups (2 as co-founder) and worked for Accelerators and Incubators across Europe, mentoring for the Copenhagen School of Entrepreneurship (DK), B-Heroes (IT), Venture Cup Denmark (DK), Connect Denmark (DK). He is also currently serving as president of the INSEAD Alumni Association in Denmark.
For daily thoughts from Andrea follow him on Twitter.