As remote work and communication became the norm, the global pandemic accelerated the digital transformation of businesses and societies, bringing the vertical of cybersecurity into unprecedented relevance. However, there's more than just COVID-19 contributing to this relevance. With countries actively rolling out 5G and bringing about industry 4.0, IoT poses novel challenges due to distributed, software-defined digital routing and an exponentially higher attack surface. On top of that, you have existing threats becoming smarter and increasingly focusing on less protected devices, such as smartphones. In short, there are many new challenges for cybersecurity and Baltic startups are taking advantage of this.
---
Below you will find a list of 8 Baltic cybersecurity startups to watch from the Baltic Startup Scene Report 2020 brought to you by us, Startup Wise Guys, and EIT Digital. This list is curated by the most reputable local investors and experts and calibrated with data from Crunchbase.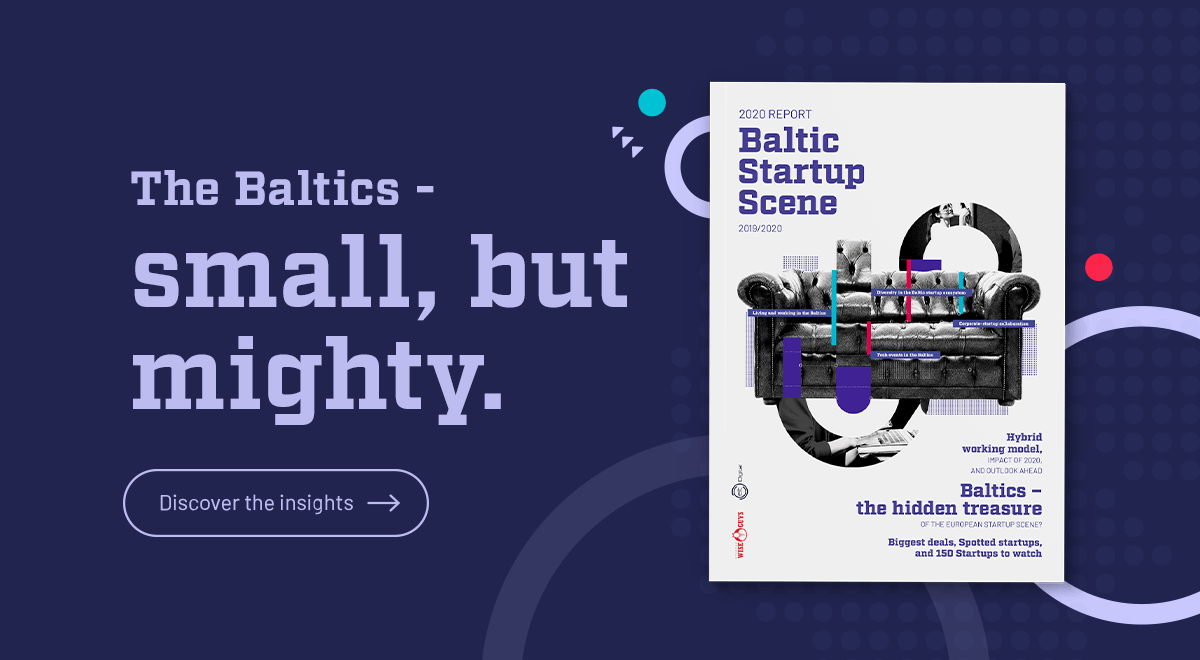 In the news
KYC and verification for sure are hot in the Baltics. Veriff, an Estonian identity verification company, has just secured 69M dollars funding and the founder is optimistic of becoming the next Estonian startup unicorn. They have already been listed on last year's Baltic Report "biggest deal" list with a 14M eur round in H1 2020. Lithuanian KYC startup ONDATO has raised 2M eur and moved its HQ to Britain in early 2021. ONDATO is listed on Report's "On the radar" startups list and is also one of Startup Wise Guys portfolio companies.
If you'd like to hear its CEO talking about moving the company to Britain in post-Brexit circumstances, tune in to our panel recording regarding the UK after Brexit and Baltic startups.
However, it is not only the verification sector that is going strong in the Baltics. The defense AI startup SensusQ (previously known as Sensus Septima) is growing fast, they closed a seed round of €550K in November 2020. There is a strong educational direction for cybersecurity training, mostly in Estonia. However, Latvian startups like InLable and Chemcode tackle complex security challenges towards product traceability and protection against counterfeit.
---
8 cybersecurity startups to watch*
IDBlender (Lithuania) – Secure network solutions made easy for organizations.
Idyllum Labs (Estonia) – Testing solution for website security features, data safety, and vulnerability to spam.
Hive.id (Estonia) – Platform that combines the most advanced identity verification and user authentication methods.
Edoks (Latvia) – Digital document flow and signature solution.
Cyex (Estonia) – AI-based tool for personalized cybersecurity exercises.
SpectX (Estonia) – Analytics platform for processing unlimited amounts of machine data scattered across different locations.
Chemcode (Latvia) – Solution for protecting brands and products, securing traceability, authenticity, and responsibility.
EiD Easy (Estonia) – eID and eSignature development tools.
* Full startup to watch list is available in the Baltic Startup Scene Report, as well as in the digital database.
Methodology
This Startups to watch list is an excerpt of "150 startups to watch list" from the Baltic Startup Scene Report. It is meant to give an insight into the most exciting startups in the Baltic ecosystem. In this list we have given the spotlight to the "Hidden treasures" – early-stage startups that have raised less than 100K eur (at the time of creating the list), launched in their home markets, are showing great potential, but might not have any significant traction just yet. Some startups listed in this category have traction but lack visibility. This category was curated by market insiders with insight into the hot potential of these startups.
Startups to watch list is calibrated with Crunchbase data on funding and curated together with our awesome contributors such as startup associations and business angel networks in all 3 countries, VC funds Imprimatur Capital, Change Ventures, accelerators BuildIt, Commercialization reactor, experts in particular verticals like Davids Stebelis and of course – the whole Startup Wise Guys team.
---
About Baltic Startup Scene Report
For investors, startup founders and Baltic ecosystem builders, the Baltic Startup Scene Report is the go-to-place for an aggregated, qualitative and comprehensive data-backed outlook of the Baltic startup scene and investment opportunities in the Baltics.
It is a collection of various data sources and angles of the startup ecosystems within the Baltic states. The report dives deeper into essential topics such as Baltic startup investments and startups to watch, most prominent investment deals, startup visa regulations, digitalization in the region, corporate innovation, and much more.
☝️ Limited amount of printed copies of the Report available on demand. Please fill this form if you'd like to get a copy.